Checkra1n Jaibreak – iCloud Bypass iOS 15.6 Windows 10 and Mac OS
June 15, 2022
Are you looking for a tool that can overcome the iCloud Activation Lock and give you access to all of your iPhone's features? Checkra1n iCloud Bypass iOS 15.6 could be exactly what you're looking for. This is a tool that, like many others, provides an effective solution to getting past the iCloud lock security feature.
Better yet, it's a free tool that you can find and use very easily.
So, in this article, we'll be discussing how this tool works and we'll also introduce some alternatives you can use.
Part 1. How Does Checkra1n iCloud Bypass Work?
1. What is Checkra1n?
Checkra1n is classified as an iCloud bypass tool meaning that it is capable of iCloud Activation Lock removal and establishing full access to features like iMessage and FaceTime.
For iCloud bypass with Checkra1n to be successful, it uses a jailbreaking technique.
What is jailbreaking?
When you jailbreak your iPhone, you remove the iOS firmware restrictions that would usually limit your actions. For instance, after jailbreaking, you will be able to install apps that Apple typically don't allow on the App Store.
In the same way, jailbreaking allows Checkra1n to bypass a core iCloud security feature and return access to the user.
Bypass iCloud GSM | Bypass iCloud Meid | Bypass Carrier (GSM) | Open menu iPhone to 13 pro max | FMI Off Password: 6s to 13 pro max
While you are doing this process, the iDevice has to face a number of issues, simply the iOS 15.3 – iOS 15.4 to iOS 15.4.1 jailbreak process is a risky process for the iDevice. The iCloud Bypass method with the IMEI number process doesn't need any jailbreak process to start the iCloud Bypass process.
Checkra1n is the only semi-tethered tool that is supported to jailbreak iOS 15.4 / iOS 15.4.1 / iOS 15.5 and Beta running iPhone 6S – iPhone 13 Pro Max Models.
Checkra1n confirms the latest iOS 15.2.1 Jailbreak compatibility as well.
[BootRa1n] Best Method iCloud Bypass Checkra1n Windows Fix All Error | MEID Call Bypass Fix Tool
2. Requirements Before Using Checkra1n
Before we jump into the installation and usage of Checkra1n iCloud Bypass, make sure you meet these requirements so that you can use the tool.
You must have access to a Mac computer (no Windows version is available)
The most recent iTunes version must be downloaded
iOS 12.3 or later must be installed on your iPhone or iOS device
Your device must be an iPhone 5S to iPhone X (newer devices aren't supported)
As long as you have a relatively new iPhone (but not newer than the iPhone X) and keep the iOS updated, there's no reason for this method not to work.
3. Limits of Checkra1n iCloud Bypass
As you can tell from the list of requirements, there are a few limitations of Checkra1n that are worth mentioning:
The most recent iPhone models are unsupported – only support iPhone 5s – iPhone X
Older iPhones that run earlier versions of iOS are not compatible – only support iOS 12.3 and above
Certain iPods and iPads are not compatible either
Jailbreaking your iOS device is required and may cause damage
After bypassing, these functions won't work:

SIM signal
iMessage
Facetime
Not able to add new iCloud account
Not able to use iTunes (it will show device activation screen)
While most people will discover that Checkra1n is effective, if you fall outside of these limitations then you won't be able to use it.
4. What to Know Before Jailbreaking iPhone
Before we walk you through our method to jailbreak iPhone on Windows without Ubuntu, there are a few notes that you should keep in mind:
Jailbreaking your iPhone will likely breach your warranty if you have a contract/data plan
Since jailbreaking involves installing a modified version of the iOS firmware, back up your data beforehand or it will be wiped
Jailbreaking tools are specific for each iOS version, so if an iOS update is released you will have to jailbreak your iPhone again
Only use reputable jailbreaking tools otherwise there is a risk that you will download malware
No matter what, there will always be a risk of bricking your iPhone when you jailbreak it
So, while you will get to reap the benefits of having fewer limitations on your iPhone, you should be aware of these risks too.
Part 2. How to Use Checkra1n for iCloud Bypass
Now for the important part: how to use Checkra1n iCloud Bypass. We'll be showing you two methods, how to use it on a Mac computer as well as a Windows computer.
1. On Mac
Starting with the Mac method, this is as straightforward as possible.
There are a couple of technical aspects to this method but as long as you stick to our steps, you'll have no issues setting up Checkra1n.
Step 1. Start by downloading the official Checkra1n tool.
Step 2. Install two other components, brew and usbmuxd, by entering these commands into the Terminal app:
/usr/bin/ruby -e "$(curl -fsSL https://raw.githubusercontent.com/Homebrew/install…)"
brew install usbmuxd
Step 3. After those finish installing, launch Checkra1n.
Step 4. Next, connect your iPhone to your computer and follow the instructions to jailbreak the iPhone.
Step 5. Use usbmuxd's built-in iProxy tool to create a tunnel from Port 2222 to Port 44 (or Port 22 if this fails) with the following command:
iproxy 2222 44
Step 6. Press Command + T to launch a new Terminal window and enter the command:
ssh root@localhost -p 2222
Step 7. Enter the following commands to patch the system's setup file and move its location:
mount -o rw,union,update /
mv /Applications/Setup.app /Applications/Setup.bak
rm -rf /Applications/Setup.app
Step 8. Lastly, enter these two commands to clear the setup file's cache and end any springboard processes:
uicache -all
Killall backboardd
After you enter the last command, you'll have bypassed the iCloud Activation Lock using Checkra1n.
Many people will be uncomfortable using the Terminal app and entering a lot of commands they're unfamiliar with, but as long as you copy exactly what we've shown you there will be no problems.
2. On Windows 10
We previously mentioned that there was no version available for iCloud bypass with Checkra1n and this is still correct.
However, there is a different (and more advanced) approach that lets you use Checkra1n iCloud bypass on a Windows computer.
Step 1. Download 3 things: Sliver, UNetbootin, and the Ubuntu ISO.
Step 2. Launch UNetbootin and open the Ubuntu file that you downloaded.
Step 3. Once the Ubuntu ISO is installed you must restart your PC. Then, when your PC turns back on, you can boot into UNetbootin and this will load your computer in Linux.
(Checkra1n is only available for Mac & Linux system, this is why we install Ubuntu to boot your computer into the Linux OS.)
Step 4. After Ubuntu has set up, connect to the internet and download the Linux version of Checkra1n.
Step 5. At the bottom left corner of the screen, clicking on the Show Applications button. Launch the Terminal app then enter the following command:
chmod + X <Checkra1n file path>
Step 6. Then drop the Checkra1n in the front of the command and press enter.
Step 7. Enter the following command and drop Checkra1n in the front of the command.
sudo <Checkra1n file path>
Step 8. Next, connect your iPhone to computer. Then launch Checkra1n and follow the instructions that it gives you to jailbreak your iPhone.
Step 9. Once the jailbreak completes, restart your computer and boot it into Windows OS.
Step 10. Then launch Sliver (Checkra1n icloud bypass activator) and click on Connect to iTunes > Continue, then your iPhone should be unlocked now!
This is obviously a lot more complicated than if you had a Mac computer.
But it is still a suitable approach nonetheless and we'd recommend giving this a shot if you're a Windows user before trying any alternatives.
Part 3. Alternatives to Checkra1n iCloud Bypass
Perhaps you want to look at your other options for iCloud bypass with Checkra1n. That's completely fine and we have two more methods you can try.
1. Tenorshare 4MeKey
Our first alternative is software that is specialised for situations where you need to remove iCloud Activation Locks, and it is called Tenorshare 4MeKey.
As a modern solution you can expect a bunch of great features:
Removes iCloud locks without the iCloud account password
Very user friendly and easy to use with no technical experience required (like Checkra1n)
Supports both Windows and Mac computer
The App Store can be accessed after using Tenorshare 4MeKey
Find My iPhone can also be disabled
Supports all iPhones from iPhone 5S to iPhone X
And for anyone who is on the edge about using Tenorshare 4MeKey and doesn't know if they want to invest in it just yet, there is a free download available.
Let's take a look at the process you need to follow after setting up this software.
Step 1. Begin by downloading Tenorshare 4MeKey, installing, and launching the software.
Step 2. The two main tools will be shown. Click on Remove iCloud Activation Lock and then connect your iPhone which you want to remove the lock from.
Step 3. After your iPhone is detected by the PC, click on Start then agree to the terms and click the Next button.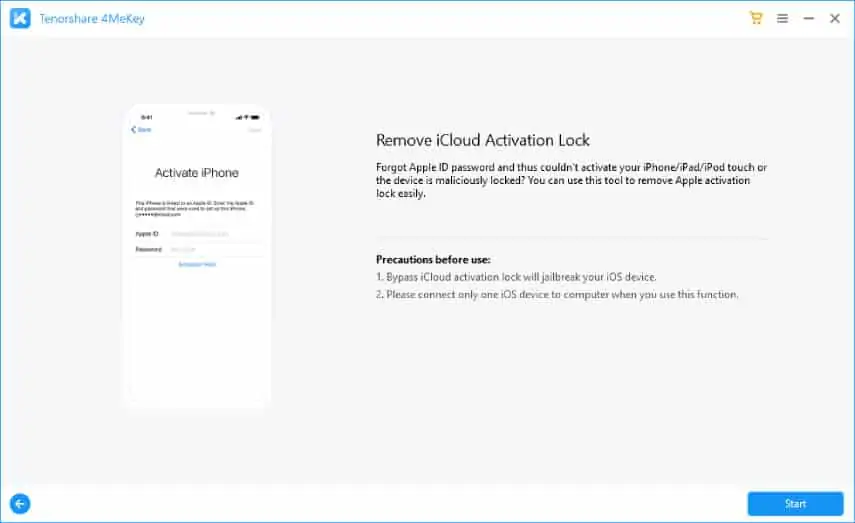 Step 4. Press Start Jailbreak and Tenorshare 4MeKey will now jailbreak your iPhone.
Note: the jailbreaking process is handled completely by Tenorshare 4MeKey if you're on a Mac, but if you're on a Windows computer you will be given detailed instructions to complete this manually.
Step 5. Once your iPhone has successfully jailbroken, confirm the device information and click Start to continue.
That's all you have to do. Aside from Windows users having to manually jailbreak their iPhone, this is an extremely straightforward way to bypass iCloud.
Naturally, some users will turn an eye to this method because they don't want to jailbreak their iPhone, but that doesn't take away from how effective this software is.
2. AppleiPhoneUnlock
Lastly, you could opt to use a service. Services are just as effective at removing iCloud locks as any other method, and our service of choice is AppleiPhoneUnlock.
For one, it comes with several notable features:
Permanently removes the iCloud Activation Lock from any iOS device
This doesn't require customers to jailbreak their iPhone for the solution to work
Your device will be unlocked completely, so you can enjoy all features and functions of it
Just enter a few details and an expert completes the iCloud lock removal remotely
Suitable for iPhones registered in any country (no geographic limits!)
And to top it off, AppleiPhoneUnlock is the most reasonably priced services out there. It's easy to use, affordable, and well worth your time. Here's what you have to do to use this service:
Step 1. Open Google Chrome, or any internet browser, and go to the AppleiPhoneUnlock official website.

Step 2. Enter your iPhone's IMEI or Serial number into the text box provided. You can find it on the Hello screen.
Step 3. Your iPhone model will be detected, then click Unlock iCloud!
Step 4. Next, you'll have the option to add FastTrack to your order which ensures your iPhone is unlocked in just 24 hours. This is optional although we'd suggest it.
Step 5. Check the box to agree to the Terms of Service and select a payment method.
Step 6. After you've paid for your order, just wait and they will contact you once the order is complete.
This is evidently a clear and easy solution.
You really don't have to do anything and while this is the only solution you have to pay for, it's cheap and definitely worth it if you want to resolve your iCloud lock issue as fast as possible.
Part 4. FAQs About Checkra1n iCloud Bypass
1. Where can I find the Checkra1n iCloud bypass server?
Differing from the iCloud DNS Bypass, there is no bypass server for Checkra1n. It's just a software solution.
2. Can I use Checkra1n for passcode bypass?
Checkra1n can be used to bypass iPhone/iPad passcode when it's disabled. The steps are the same as iCloud bypass.
3. Can I use Checkra1n iCloud bypass for my iPad mini?
It all depends. Here are the supported devices: The iCloud Unlock iOS 15.2 and iOS 15.3 / iOS 15.3.1 / iOS 15.4 / iOS 15.4.1 / iOS 15.5 and iOS 15.6 is supported for the iPhone 13, iPhone 13 Mini, iPhone 13 Pro Max, iPhone 13 Max, iPhone 12 Mini, iPhone 12 Pro Max, iPhone SE 2, iPhone 11, iPhone 11 Pro, iPhone 11 Pro Max, iPhone XS Max, iPhone XS, iPhone X, iPhone XR, latest iPads, latest, iPod and Apple Watch series.
A5 – iPhone 4S, iPad 2, iPad Mini (1st generation)
A5X – iPad (3rd generation)
A6 – iPhone 5, iPhone 5C
A6X – iPad (4th generation)
A7 – iPhone 5S, iPad Air, iPad Mini 2, iPad Mini 3
A8 – iPhone 6, iPhone 6 Plus, iPad mini 4
A9 – iPhone 6S, iPhone 6S Plus, iPhone SE
A9X – iPad Pro (9.7 in.)
A10 – iPhone 7 and iPhone 7 Plus, iPad (2018, 6th generation), iPad (2019, 7th generation)
A10X – iPad Pro 10.5″ (2017), iPad Pro 12.9″ 2nd Gen (2017)
A11 – iPhone 8, iPhone 8 Plus, and iPhone X
4. Does Checkra1n work for SIM unlock?
No, Checkra1n can't be used for SIM unlock. But you can unlock your iPhone carrier for free by contacting the carrier.
Conclusion
You've got an abundance of options when you're intrigued by Checkra1n iCloud bypass.
Checkra1n is simple enough (unless you're on Windows, in which case you'll have to put in a lot of work), but alternatives are available to you.