Download Doulci Activator 2023 Full Cracked Bypass iPhone 14 Pro Max
November 9, 2022
DoulCi Activator software for Windows which provides bypass iCloud activation lock 2023 on Apple devices. Users can redirect the activation via a third-party server. This will help you access the data and use the phone as usual. If you have forgotten your Apple ID and password or no longer have access to your old iTunes email account, then it's impossible to regain control of your Apple Product! doulCi Bypass iPhone 14 Pro Max is the solution that will enable you to regain permanent access.
iPhone 14 Pro Max iCloud Bypass
To put it plainly, doulci is a third-party server to spoof Apple's iCloud servers, to achieve the purpose of unlocking. Described as its official site Bypass iPhone 14 Pro Max.
doulCi is the world's first Alternative iCloud Server and the world's first iCloud Activation Bypass. doulCi will bypass and activate your iPhone, iPad or iPod touch for you when you are stuck at the Apple activation menu. doulCi can get bypass the iCloud Activation Lock and get your device working again to get your digital life, contacts, mail, notes, etc.…

Latest Updates iCloud Bypass 2023
Premium Version Download
With eBay 21 Day Money Back Warranty.
Unlocking and Bypass iPhone 14 Pro Max
It is necessary to download iTunes on your computer to use the app. Then you have to connect your phone via the USB cable.
The next step is to launch the program and enter your account information. With the help of Apple support service you can get your login and password. It is possible to unlock an iPhone or iPad by selecting the model and OC details.
You have the opportunity to start the process of removing the link to your iCloud account. This may take a while. If the operation appears to be successful, a relevant notification will be shown on the screen.
Do You Know DoulCi iCloud Unlocking Tool?
DoulCi Activator is a free tool that can be used to remove iCloud Activation lock on iOS devices including iPhones, iPads, iPods, and Macs.
You can use it to bypass iCloud Activation without needing iTunes or even if you don't have your Apple ID and password. It is therefore the most ideal solution when you purchase a locked second-hand iOS device and you need to remove iCloud Lock Activation Lock to use the device.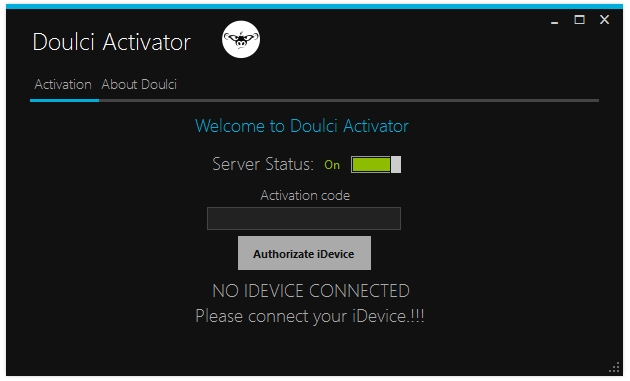 How DoulCi Works
DoulCi Activator will only work if your device is running iOS 7.1.2 or below. As to how it will unlock the device, the process is not clear.
The tool's creator says that the process is kept secret to keep the information proprietary and if it was made public hackers could hack into the website's code and use it to develop a similar service.
They could then claim that the service will unlock the device, but they will use the access users to give them to steal personal information and data.
To unlock your device with DoulCi, all you have to do is provide details about the device including your contact information and then wait a few days for the device to be unlocked.
Can I Still Use DoulCi 2023 Bypass iCloud?
The methods that DoulCi used to unlock devices in the past are no longer viable and therefore the service cannot be used to bypass iCloud Activation anymore.
The service worked by exploiting various vulnerabilities that iCloud had in the past. But Apple has since patched up these vulnerabilities and therefore DoulCi 2023 doesn't work anymore. In fact, it hasn't worked since 2014. However, the website is still operational as a way to discredit scammers who may try to scam you of your money by claiming that DoulCi works.
Functionality
DoulCi Activator applies a connection to DNS servers for bypassing blocking. Once you enter iCloud login and password, the activation request will be redirected through the transitional site. It enables you to normally use your gadget, open files and launch apps.
It is worth noting that the developer doesn't guarantee the efficiency of software on all devices. You have to purchase a key for activation access.
Features
Feel free to use and download;
Utility allows you to bypass iCloud activation lock;
The program works on any iPhone or iPad model;
You have to enter a login and password to unlock;
App is compatible with the current Windows versions.
How to Bypass iCloud Activation Lock via DoulCi
iCloud first is a constancy determined through Apple Mackintosh, this has been recently set up to maintain your iOS role throughout being utilized via just individuals you do not aspiration. every time your latest shopping mode iPhone 14 Pro Max, shopping mode apple shopping mode iPad tablet in addition to shopping mode iPod touch obtain thieved it is probable to fastener so as to and as well erase all your data, if you achieve this the one who wrap it cannot work by it. It immediately turns into "bricked"
How to Bypass iCloud Activation Lock iPhone 14 Pro Max
Preparation: Use Our Doulci iOS 8.2 Bypass Software. Follow the full step by step guide on your device until the screen with shop mode apple id activation.
Download Doulci Activation tool.
Run Doulci Bypass Exe Server.
Enter the Activation Ticket into Doulci.
Plug in your idevice.
Click activation ticket & wait a small number of seconds.
You are complete! You have successfully bypassed iCloud activation.
Every hacker, which in turn goes through this recognition linked by AquaXetine as well as MerrukTechnolog, observed a few sort of constancy downside which let these individuals let loose (unbrick) approximately some iPhone 14 Pro Max, shopping mode apple iPad or possibly an iPod touch. They will do this exacting by method of approach known since "man-in-the-middle attack".